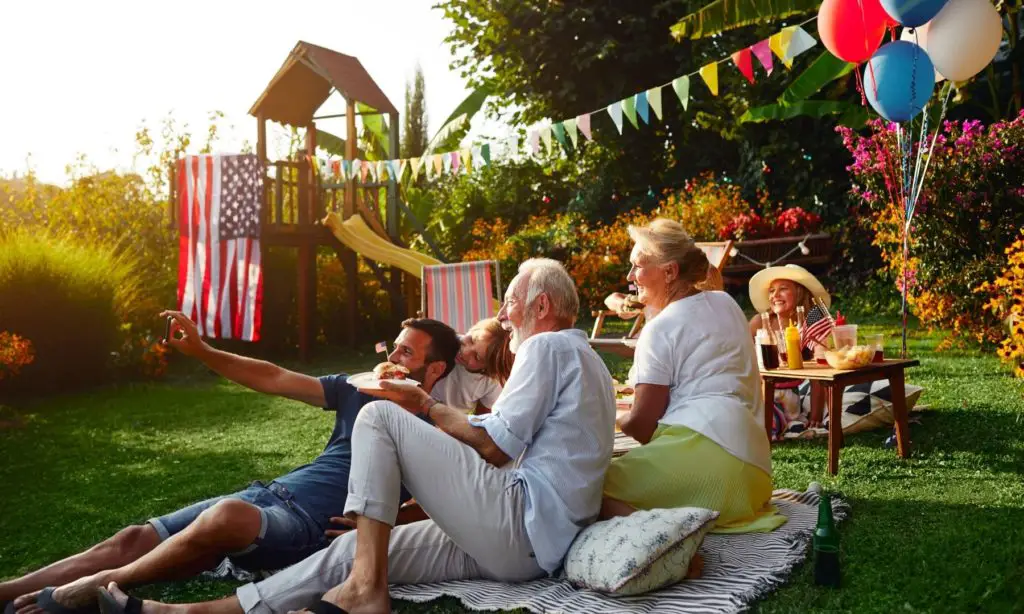 Say hello to pies, fries and the Fourth of July! Americans have celebrated Independence Day since it's first anniversary with colorful fireworks displays, hearty celebrations with family and friends and exciting festivities that this red-white-and-blue event brings every summer. Continue reading for a list of 4th of July safety tips to keep you and your family safe this Independence Day.
Fireworks Safety
The 4th brings automatic thoughts of eye-catching fireworks displays. Although these displays are beautiful, they're also very dangerous. According to the NFPA, about 28% of fires started by fireworks each year are reported on Independence Day.
Keep your state and local regulations in mind if you choose to handle any sort of fireworks at your own risk. However, police and fire departments urge families to leave the fireworks to the professionals.
Don't allow children, elderly, anyone under the influence or impaired in any way to handle or light fireworks.
Keep a portable fire extinguisher or water hose close by to put out any fires.
Ensure your pets are comfortable and in a familiar and quiet place and away from the loud noises. Check out more pet safety tips here.
Water Safety
The summer heat has us all running to water activities in efforts to cool us down. However, even the most fun activities require proper precautions.
Create water safety rules with family and small children.
Always keep a first aid kit handy in case of emergencies.
Make sure to have a life jacket for any boat rides and river/lake activities.
Consider installing an outdoor camera that overlooks your pool or a motion sensor on your back door to alert you via phone if the sensors are activated or if your camera detects motion. Text 276-530-2429 for more details!
Grilling Safety
Did you know…July is the peak month for grill fires? Be the best (and safest) grill master in your neighborhood by following these tips for your summer grilling.
Never grill in an enclosed area such as a garage and keep the grill away from decks, trees, outdoor equipment or other surfaces that might catch fire; on average 10,600 home fires are started by grills each year.
Always tend to your grill and steer any children and pets away.
Get familiar with the type of grill you have such as charcoal or propane to ensure you are purchasing the correct material to begin grilling.
Check your gas grill for any leaks or breaks.
Cook food thoroughly to prevent any food poisoning due to uncooked meat.
Remove any grease buildup and keep your grill clean.
Sun Protection
Whether you plan on spending time by the beach, at a backyard barbecue or even in the shade this weekend, wearing some form of sun protection is important!
Any kind of sun exposure can increase your risk of burning and skin cancer in the future (and wrinkles!). Try to stay in the shade as much as possible.
Always wear sunscreen and reapply every 2 hours, or after swimming or any physical activity.
Consider taking refuge under some shade during the peak hours of sun intensity between 10 AM and 4 PM.
Ensure you have broad spectrum sunscreen that protects against both UVA and UVB rays. The Skin Cancer Foundation recommends an SPF of 30 or higher for extended outdoor activity.
Drink lots of water to prevent dehydration and heat stroke.
Home Security
If your 4th of July plans include traveling, ensuring your home is protected while you're away is a no-brainer.
Close all windows, unplug devices and lock up after you leave.
Leave a few lights on to deter potential burglars from thinking no one's home. Install smart lights that you can control remotely.
Ask your post office to put a stop to your mail or leave your mail and packages with a trusted neighbor.
Install a smart video doorbell camera to keep track of any lingering packages.
Don't post your travel information online.
Consider a home security system. With 24/7 professional fire and burglary monitoring, Trinity offers peace-of-mind that your home is always protected whether you're at home or away. Text us at 276-530-2429 to get in touch with a Trinity Representative.
Have a blast this Independence Day while keeping safety in mind!
Sources:
National Fire Protection Association (NFPA): nfpa.org
ASPCA: aspca.org
Skin Cancer Foundation: skincancer.org