Going solar has never been easier for your DC Metro home
Switching to Solar Power will not only save you money in the long term, but also has many positive environmental benefits including reducing carbon emissions from harmful fossil fuels.
Call 800-613-1874 today for a free quote or click below.
If you're considering Solar Energy, you're in the right place
At Trinity, our mission is to provide complete residential solar power solutions with quality craftsmanship, attention to detail, and excellent customer service that inspires you to recommend us to others.
As a local family owned and operated business for over 20 years, we have been providing innovative solutions for homes in the mid-atlantic region. Our reputation for exceptional service and cutting edge technology now extends to Solar. From simple installations to complex projects such as rooftop solar panels on Spanish tile, standing seam metal solar panels, solar panels on corrugated roof, solar panels on flat roof, off-grid systems, and more – Trinity is the team for the project.
Our in-house service department is friendly, knowledgeable, and ready to help walk through every step of the process with you to make this as easy as possible.
The time is now to stop renting electricity from the utility. Let Trinity install solar panels on your house and make your own clean power to get short-term and long-term financial benefits while helping to protect the environment.
Is solar really worth it?
Yes! For starters, here are 3 good reasons why we think so.
Save Money
With a solar panel system, you will generate free power for your system's entire 25+ year lifespan. Even if you don't produce 100% of the total energy you consume, solar still reduces your utility bills, meaning you will start saving a lot of money from the start. Going solar helps avoid the rising energy costs.
Stable Energy
Wouldn't be nice to know exactly how much your energy bill will be every month? Thankfully with solar panels, there's no more guessing or wondering. Solar panels can help cover most of your energy costs leaving a small percentage or minimum service charge from the utility company which is much more manageable.
Save The Environment
One of the great things about solar energy is that it's sustainable. By harnessing the sun's power, you can tap into one of the most reliable renewable energy sources on earth. Even better is that while doing so you can lessen the impact of your carbon footprint on the environment. Switching to solar just makes sense, doesn't it?
How does solar installation work?
It's actually easier than you might think – and Trinity takes care of the whole process.
Evaluate
Our professional solar consultants will evaluate and determine if your home is right for solar. They will provide you with an accurate quote and drawing of your home's new solar design. Lock in low energy costs for the next 25+ years.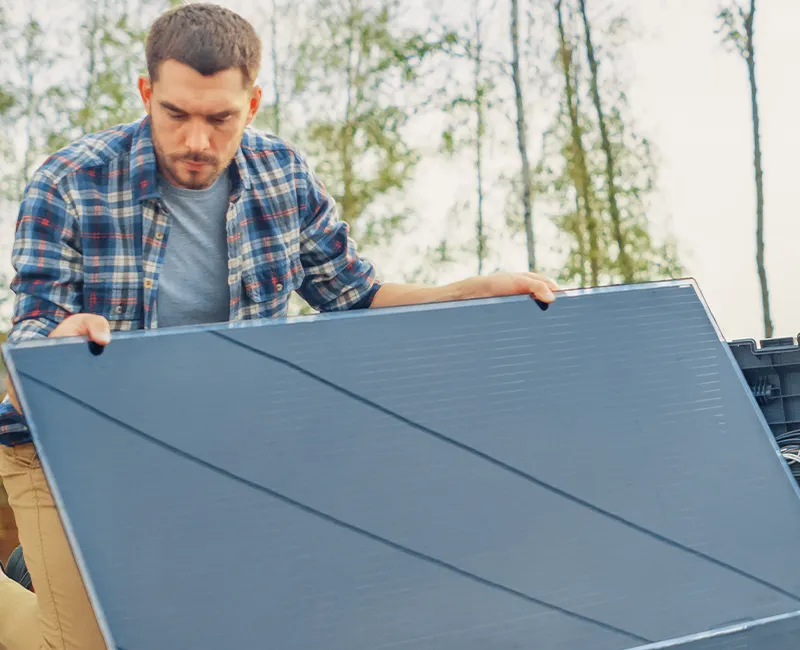 Install
We will handle all the details! From permitting, inspections, electrical work to connection to the grid. Along with your utility company, we will connect your system, and give you the green light to turn it on.
Use
Congratulations! The sun now powers your home's energy consumption. Impress your neighbors and monitor your solar production with your mobile device. Enjoy the savings for decades and enjoy your home powered by the sun.
Monitor Your Solar from Your Alarm.com App
Solar Monitoring with Alarm.com
Federal Tax Credits
The federal residential solar energy credit is a tax credit that can be claimed on federal income taxes for a percentage of the cost of a solar system. These tax credits vary by year, but for 2023 are around 30% through the end of the year for solar energy installations that have been completed.
Increased Home Value
According to Zillow, homes that have Solar panels sell for 4.1% more than homes that do not have panels. The Solar panels also extend the life of a roof, because they protect from the elements, such as rain, snow and debris. They make the house more energy-efficient in the summer because the hot sun is not beating down on the roof directly
Trinity – the region's trusted name in home and business technology since 2001
Manny and Nancy did an outstanding job. Awesome service, awesome advice, awesome products. I highly recommend.
– Luke P.
Excellent Service, Mr. Green was the sales person, recommended what we needed and not trying to oversell items that we did not need. The Service technicians Johnny and Michael were also outstanding. Certainly worth the time and effort.
– Matt D.
I have been working with Trinity for the last four and a half years and they have been absolutely fantastic! From Emma in the office, Richey, and Will, it has been nothing but a fantastic experience. They are very professional, courteous, and extremely patient! If I could have had Trinity service my old alarm 30 years ago, I totally would have! I would highly recommend them without any reservation!
– Dionne J.
Ready to learn more about solar for your home?
Contact Us for a Free Consultation and Quote. Call 800-613-1874 or fill out the form.
Want to first see how much you can save with Solar?