During the whole week of October 9th, the National Fire Protection Association (NFPA) sponsors the observance of Fire Prevention Week which brings awareness and education to both children and adults on fire prevention and how to stay safe in an event of a fire. This yearly observation is in commemoration of the Great Chicago Fire which began on October 8, 1871 and lasted for 24 hours causing devastating damage of personal property and land and heartbreaking losses.
Fortunately, today, we have many laws requiring fire evacuation procedures and routes, exit signs, fire alarms and extinguishers in buildings that are set in place. Not only is it important to have standard procedures in place in businesses, schools, and other buildings but it's also important to have some sort of plan of action in your own home.
Fire Safety Tips For the Whole Family:
Locate your home's fire extinguisher (usually located in the garage, kitchen, or utility room)
Create an exit plan and emergency evacuation route and practice it with your kids throughout the year
Educate your kids on the importance of fire safety and what to do in an event of a fire
Point out any potential fire hazards throughout the house
Equip your home with fire detecting devices such as Smoke Detectors, Carbon Monoxide Detectors, Firefighters and Fire Extinguishers
Ensure your smoke and carbon detectors and other fire detecting devices are working and communicating properly and batteries are replaced once to twice a year. Check out this video on how to replace your batteries yourself!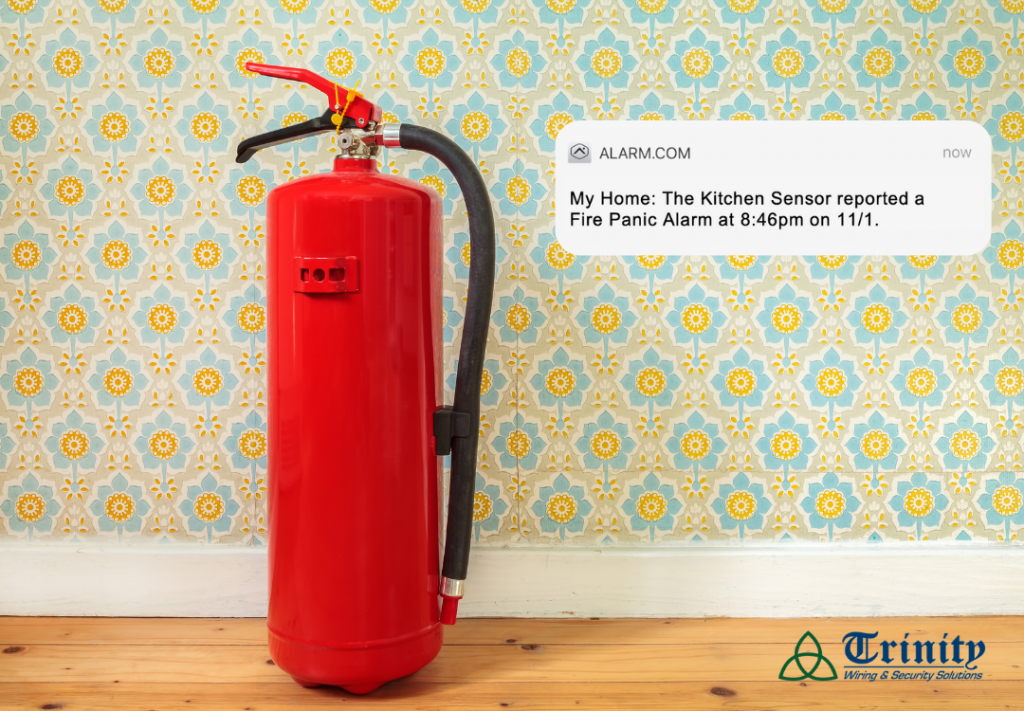 The Importance of Monitored Fire Protection for Your Home
Equipping your home with working fire detecting devices such as smoke detectors, carbon monoxide detectors, and firefighters as well as fire extinguishers, in case of an existing fire, is essential but ensuring your home is under monitored fire protection is of paramount importance in the safety of your family and property.
According to the National Fire Protection Association, fire departments respond to around 350,000 calls each year. From 2013 to 2017, the NFPA found that home fires caused an annual average of 2,620 deaths and around $6.9 million in property damage. Filing fire damage claims can be even more costly. The Insurance Information Institute states that the average homeowners insurance claim for fire can be upwards of $80,000.
Incorporating monitored fire protection not only allows for peace-of-mind knowing that your home is under 24/7 monitored fire protection, it also alerts your mobile device immediately so that your and your family have time to escape and ensures that the fire department is notified and dispatched in seconds in case of an actual fire.
24 Hour Protection and Monitoring by Trinity
Our 24 hour Trinity Monitoring Station not only monitors your home for burglaries but also monitors in the event of a fire. Your Smoke Detectors, Carbon Monoxide devices, and Firefighters all work together to automatically send signals to your Trinity Monitoring system which notifies and dispatches the fire department immediately and alerts your mobile device as soon as smoke is detected whether you're at home, fast asleep, or away.
If you have any questions on fire prevention and safety procedures or want to speak to a Trinity Representative about adding monitored smoke and fire detection to your Trinity Monitoring System, please give us a call at 800-613-1874.
Sources: National Fire Prevention Association (NFPA), National Geographic, Insurance Information Institute (III)