Video Surveillance
Our Exceptional Video Surveillance Systems Puts You In Control Of Your Family, Home, And Safety!
Keep an Eye on Your Home from Anywhere
Home automation solutions continue to find ways to check on your home even when you can't be there. Now you can see who's at your front door with closed-circuit television (CCTV) cameras that send you alerts when motion is detected. CCTV equipment can be custom designed for your needs and property, with plenty of options and features available. Today's cameras are full-color high definition, 1080p quality, and record vivid videos in both day and night vision. Critical videos can be stored on long-term storage systems, with a choice of sizes and lengths of storage periods. Our systems come with free remote viewing features, so you can check up on things from your mobile phone, tablet, or laptop while traveling. Contact us today to learn what video surveillance can do for you!
Never Wonder What's Happening at Your Home
Trinity Wiring Solutions can add an extra layer of security by protecting your home with a CCTV surveillance system. We can add indoor and outdoor cameras and integrate them with your home security and Wi-Fi so you can access live image capture and live streaming video of current events.
Though a CCTV surveillance system isn't intended to replace alarms and sensors, they deter potential thieves. With Trinity Wiring Solutions, you can view live feeds on your smartphone. Our HD home security cameras provide up to 50 feet of video coverage and work nonstop, day and night. You can access the cloud-based footage online, anytime, anywhere.
Connecting Your Surveillance System
We offer both wireless and hardwired security cameras. Our wireless security cameras require an Internet connection, and in the event of an Internet outage, they will not work. Hardwired cameras are locally networked and can record on a local DVR. In case of an Internet outage, your hardwired cameras will continue recording.
Designed, Installed, and Monitored by Professionals
Our security experts review the layout of your home before strategically installing security cameras at vulnerable locations, ensuring they record emergencies if they occur. Trinity Wiring Solutions works hand-in-hand with the Alarm.com web portal and web-enabled devices so you can access and control your home remotely. Once the surveillance system is installed, our team will provide tips on using the Alarm.com app so you can get the most out of your security surveillance system. We're proud to offer the latest in cutting-edge technology.
We know that no two homes are the same, and we take the time to understand your needs when installing a security system. Our team can meet the needs of your home, no matter the size, with an appropriately designed system. Trinity Wiring Solutions can assist you with advanced camera technology and quality customer service. We offer several security monitoring solutions for your home, including 24-hour monitoring, burglary alarms, fire alarms, medical monitoring, and audio-visual monitoring.
Since 2001, Trinity Wiring Solutions has been the trusted name for professional service and care in all facets of residential and commercial solutions.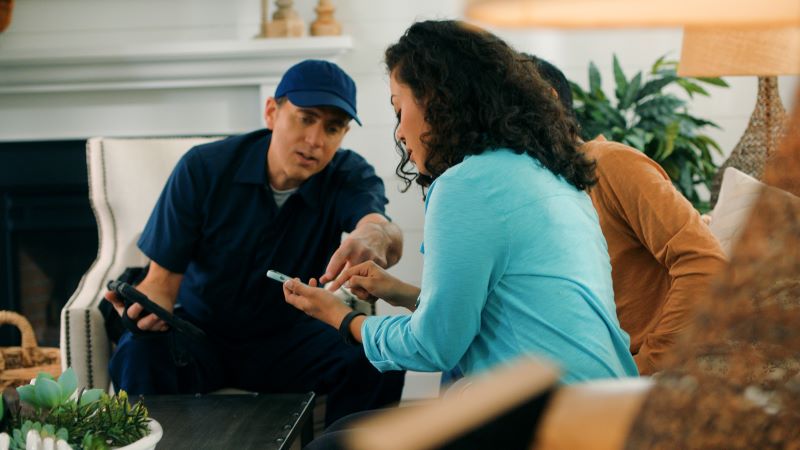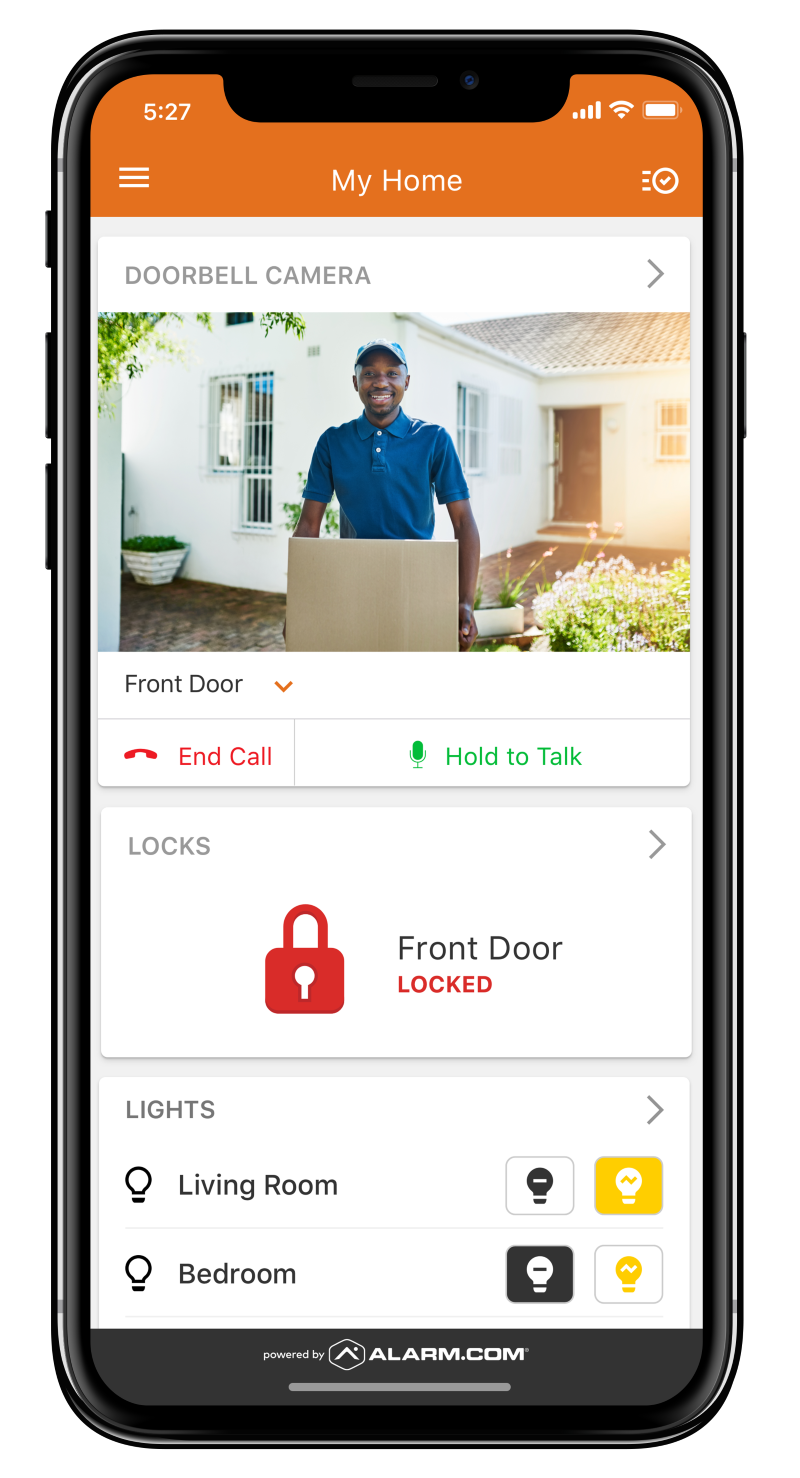 We offer a range of camera systems with high-definition quality for your home and business. From basic setups to systems designed that meet more specific goals like a license plate or facial recognition, we have the solution. Easily view your camera system in real time from anywhere.
Customize your outdoor cameras to send video alerts focused on people, vehicles, animals, or specific areas of your property.
Indoor cameras can be programmed so you get daily video clips of your family arriving home or allow you to check in with a quick call through your camera.
Front door cameras can allow you to see and talk to visitors from anywhere, even allowing you to unlock the door with electronic locks.
Please note that the above features may require additional third-party devices. Trinity Wiring Solutions, LLC is your all-in-one smart home solutions provider.
Benefits of a Security Surveillance System
Installing a CCTV camera system can assist you when you want to monitor suspicious activity around your home, find out who is at your front door, or check on your pets while away from home. Here's a closer look at some benefits a home security surveillance system can provide.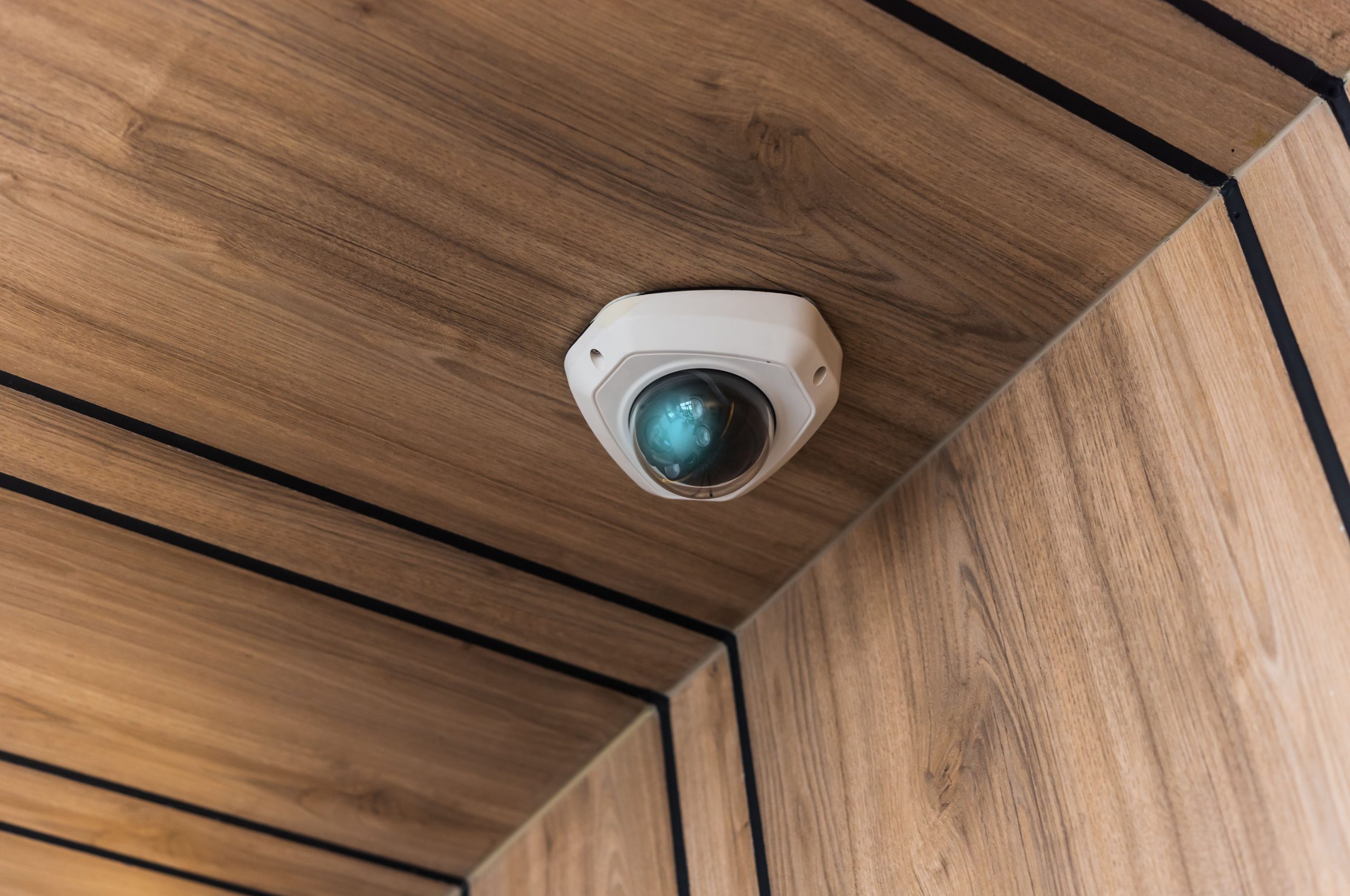 Video Storage
Our security surveillance customers can view their cameras anytime using the Alarm.com app. In addition to providing a live video feed, the app allows for the playback of stored video clips. The app can store a month's worth of video clips, allowing our customers to view and save events in and around their homes at their convenience. This feature is handy when families wish to save videos to show the authorities in the case of a burglary, vandalism, or other crime. While security cameras can keep you safe from worst-case scenarios, they can also let you save funny and irreplaceable moments to enjoy for the rest of your life.
Additionally, our surveillance camera systems offer recorders that can save even more video. If desired, they can record continuous videos or store a library of motion-based clips. Perhaps an event occurred at the edge of a camera's peripheral vision that did not register as a "motion" event. This option for continuous recording can ensure that users can still view these types of events and leads to peace of mind, as you will know that anything that occurs within sight of your cameras will be captured and recorded. In addition to options for storing video, our smart cameras also provide alerts based on live video.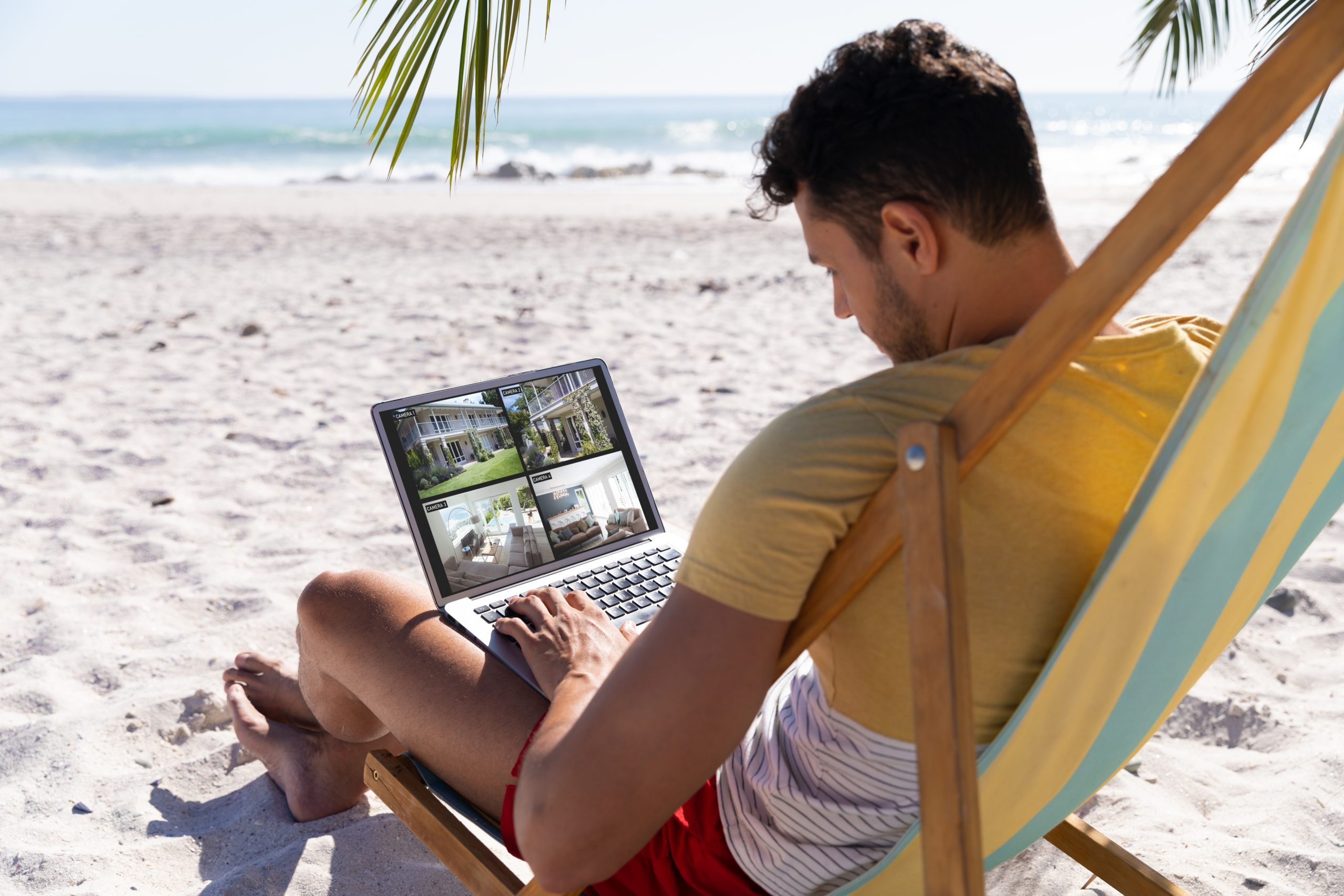 Enhanced Security
Home security surveillance cameras have made tremendous progress in the last few decades, not only in individual capabilities but also connecting with other smart home security systems. In many cases, a visible camera will discourage unwelcome guests. However, suppose a burglar is persistent enough to enter. Your security camera will record important information, such as the criminal's physical description and time of entry, and potentially identify any stolen goods. However, home surveillance cameras go far beyond just scaring away or identifying intruders; they can also enable you to look in and around your home from the office, on vacation, or just about anywhere in the world over an internet connection. Now you can watch family and pets or see the package at the front door.
Real-Time Notifications
While traditional surveillance systems allow for live remote viewing of a home's cameras, they do not offer customizable live alerts. Our smart cameras provide options for these alerts, allowing you to receive live video notifications whenever a camera senses motion. This is a popular option for cameras installed in high-security areas, adding peace of mind and security. However, these alerts can also get old quickly when placed on cameras that experience a lot of motion. For this reason, Trinity Wiring Solutions allows users to customize their alerts.
For example, maybe you have a camera in the main hallway by your front door. You will not need an instant alert every time someone enters this area. However, perhaps you expect your kids home from school by 3:00 pm on weekday afternoons. In this case, you can receive an alert when someone enters the hallway between 2:30 and 3:00 pm Monday through Friday. You can even create a text alert sent to your phone if this camera does not sense motion by 3:00 pm. The ability to customize alerts for each camera adds a tremendous amount of security. Furthermore, these cameras offer powerful video analytics, making them more useful than most.
Video Surveillance Camera Features
Our security surveillance systems will monitor and alert you about movements such as people or animals and even identify packages left at the front door. Some of the most popular features of our surveillance systems include:
Program smart lights to be triggered depending on the type of object identified. For example, set your outdoor lights to run on after dark when a person is detected, but stay off when an animal is nearby.
Video identification zones allow you to set a zone that will notify you of an event when crossed. For example, if you live by a busy street, you might not want to be notified of every car driving by, but you do want an alert if someone turns into your driveway.
Touchless doorbell cameras will notify you when someone comes to your front door. The doorbell camera will automatically ring the house chime, start recording and alert you that someone just walked up to your front door.
Two-way voice operations allow you to chat with people at your front door, even if you're out of town.
With smart locks installed, you can even let the person in your home while at work.
Your security cameras will operate best when integrated into a home security system. They'll begin recording at the slightest movement or trigger of a glass break or contact sensor. Not only will you be able to protect your property, but you'll also be able to keep your loved ones safe. If you're ready to equip your home with security cameras, contact Trinity Wiring Solutions today!
What our Customers are Saying
Trinity wiring did all of the wiring in our in our new home as well as the security and door camera and bell. They will be now installing cameras in our home. They are highly respective , intelligent and class organization. And EXTREMELY Responsive!!
– Douglas B.
Bought a home security system in addition to some additional Low-Voltage wiring options in my new construction home. Very easy to work with and pricing was better than expected. Final install just happened yesterday by Carlos and he was fantastic. Walked me through all of my home security features and made sure I knew how to integrate additional smart home features if I wanted to down the road. Great customer experience!
– Eric D.
Shannon at Trinity Wiring Solutions has helped me expand our security systems for all of my warehouse locations, and at my home as well. Her, along with the entire company, have been great to work with & I highly recommend them for anyone seeking security systems, cameras & any of their other products. They are a great local company who stands by their products & especially their loyal customers (like me!).
– James H.
Frequently Asked Questions
Do I have to register my security system with the County?
It depends. Every county has different regulations, but most counties do require you to register your system with them. You can find more information at your county's FARU (False Alarm Reduction Unit) or by calling your local police department's non-emergency number.
Will changing service providers affect my security system?
Possibly. If you are running off a phone line or IP (Internet Router) this could cause your system to stop communicating with out 24-hour monitoring station. If you are thinking about switching providers, please let us know so we can send a technician out to reroute your system.
Will getting rid of your phone line affect my security system?
Yes, if you are communicating with a phone line, removing it will cause your system to stop communicating.
How can I update my billing information?
Log into your customer portal
Click on NEW CUSTOMER REGISTRATION
Enter your personal information (customer number and registration key can be found on your latest invoice or statement)
Follow the prompt to create login information
Once logged in, you must click on CC/CHECK tab
Easily update your billing information
When is my first payment due?
The day your security system is activated.
Do you offer home automation?
Yes, call our main office for pricing and additional information.
Call 800-613-1874 or fill out the form to start your home security project today!
By clicking submit on this form, you acknowledge that the information you provide will be processed in accordance with our Privacy Policy.