Home Automation
Our State-of-the Art Smart Home Automation Systems Puts You In Control Of Your Family And Home!
How to Transform Your Home Into a Smart Home with Automation
Automation is now a part of our everyday lives, and it is only going to become more prevalent in the future. Smart homes are the next step in this evolution, and they offer meny benefits that can make our lives easier, more convenient, and more secure.
What is a Smart Home?
A smart home is a home that uses automation to control various devices and systems, including lights, thermostats, locks, security systems, entertainment systems, and more. With a smart home, you control everything from a central location, such as your smartphone, tablet, or voice assistant. You can also set up automation rules so devices turn on and off automatically based on your schedule or other criteria.
There are many benefits to owning a smart home. Smart homes can help you save money on energy bills, make your home more secure, and improve your overall quality of life. Use smart thermostats to program your heating and cooling system to turn on and off at certain times, which can help you save money on your energy bill. Allow smart security systems to monitor your home for break-ins and automatically alert the authorities. Keep an eye on visitors at your front door from anywhere with a smart doorbell.
If you are interested in upgrading your home into a smart home, there are a few things you need to do. First, decide how much of your home you want to automate. There are many levels of smart-home automation to choose from. You can automate just the essentials like the security system, climate control, and a few lights for security, or you can automate the whole house, including the entertainment systems, window shades, all your lights, an integrated solar system, and even your energy consumption.
To get started, give us a call and one of our professional sales associates will walk you through all the options and work up a budget for your new smart home.
How to Get Started with Smart Home Automation
If you are interested in getting started with smart home automation, there are a few things you need to do. First, decide what devices you want to automate, then choose a smart home platform. There are a number of different smart home systems available, so pick a system that supports the type of functions you want to automate. Our sales associates can assist you with the system that best supports the features you want integrated into your smart home.
Example smart home automation rules
When you come home, your lights turn on and your thermostat adjusts to your preferred temperature.
When you leave home, your lights turn off and your security system arms itself.
If your smoke alarm goes off, your smart home sends you an alert and your lights flash.
If your security system detects an intruder, your smart home sends you an alert and your lights flash.
The possibilities for smart home automation are endless. With a little planning, you can create a smart home that makes your life easier, more convenient, and more secure.
Popular Benefits of Home Automation
The benefits of home automation can be broadly categorized into savings, safety, convenience, control, comfort, and peace of mind. Some consumers also purchase home automation systems for the added value of entertainment and lifestyle enhancements.
Here is a closer look at some of the biggest benefits that home automation provides:
Convenience
Home automation can make your life more convenient by allowing you to control your home's devices from anywhere in the world. For example, you can use your smartphone to lock the doors, turn on the lights, or adjust the thermostat. This can be especially helpful if you're coming home late from work or on vacation.
Additionally, home automation can help you automate many regular daily tasks, freeing up your time for other things. For example, you could set your lights to turn on at a certain time in the morning or to turn off when you leave the house. You could also set your thermostat to adjust automatically based on the time of day or the weather. This can help you save energy and improve your comfort.
Control
With home automation, you have more control over your home's devices and systems. For example, you can use a smart thermostat to adjust the temperature from your smartphone, even when you're not there. This can help you save energy and keep your home comfortable.
You can also use home automation to control other devices in your home, such as lights, locks, and security systems. Have peace of mind knowing that your home is always secure, even when you're not there.
Additionally, home automation can help you better understand what's happening in your home. For example, smart security systems can alert you if someone tries to break in, helping to keep your home safe and secure.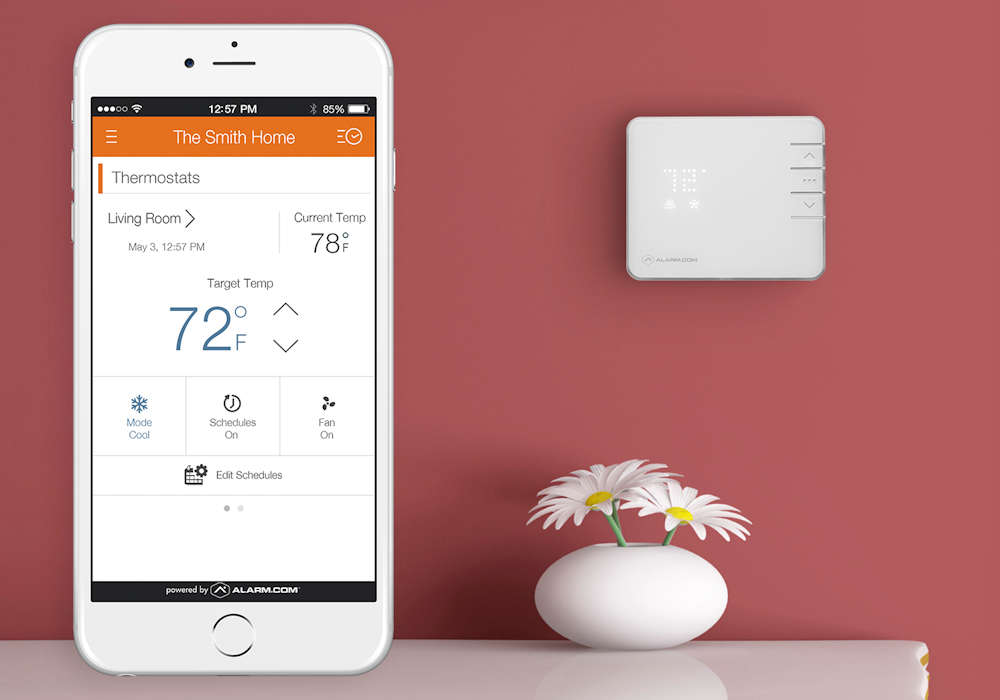 Comfort
Use smart technology to create a comfortable and inviting environment in your home. Use smart speakers to play music throughout your home, or to control your lights and thermostat. You can also use smart thermostats to automatically adjust the temperature based on your schedule, which can help you save energy. In addition, some smart products can actively monitor your home's systems and provide insights and guidance on ways to improve your energy efficiency.
Peace of Mind
Many people invest in home automation technology for peace of mind. Parents use smart cameras to check on their children while they're away and smart lights to create a welcoming atmosphere when they get home or to make it look like they're home when they're not. Additionally, smart locks can help to improve security by making it more difficult for intruders to break in.
Finally, home automation can help to reduce stress and anxiety by taking care of small tasks. Set your lights to turn off automatically when you leave the house or have your thermostat adjust based on your schedule. This can help you relax and enjoy your home without worrying about the little things.
Our Touchscreen Is The Control Center Of Your Home
Our home automation system includes a high definition touchscreen that allows you to control all aspects of your home, including:
Security: See who is at your front door with a built-in camera, and speak to them through the touchscreen. Receive alerts if someone tries to break in.

Lighting: Dim the brightness of your lights and create automated light settings.

Thermostat: Adjust and manage your smart thermostat.

Water: Turn the water supply on and off when moisture is detected somewhere it shouldn't be.

Appliances: Receive alerts when certain appliances (e.g., the dishwasher) aren't functioning correctly.

Drapes: Program your drapes to close at a certain time of day.

Voice control: Use voice control to check the weather, play a song, and much more.

Locks: Install smart locks on your doors.
Your imagination is the limit when it comes to utilizing home automation. With our HD touchscreen, you can control all aspects of your home from one convenient location.
What our customers are saying
A business that takes customer service seriously. The Tech Support in knowledgeable and amazing))). It is nice to call a company and actually speak to someone who works there and has the ability to help right then and there. They came out to my house and listed to what I wanted and came up with an affordable system for my budget.
– Rob A.
We highly recommend Trinity Wiring Solution for home security and automation. We have been customers for more than 11 years and very pleased with their outstanding customer service that they have provided. They are very responsive, their technicians and staff are professional, polite and knowledgeable. Micheal and Herbert recently upgraded our system and they did an outstanding job. We were extremely pleased with the overall outcome. They are dedicated to excellence in customer service. We ❤️ Trinity and our new system.
– James F.
Trinity Wiring Security Solutions is one of the top companies for anything relating with security and latest technology. The Tech Staff specifically Mr Herbert are very patient and good listeners when it comes to concerns and to identify the best solution for your needs. The professionalism, attention to detail and punctuality top notch. Kudos to all staff and tech for a great job.
– Jose M.
Frequently Asked Questions
What Are The Benefits Of Home Automation?
Optimized comfort and security are the primary reasons most homeowners invest in home automation. Not only would you enjoy increased convenience, savings, and peace of mind, but you'd also be able to access your home's functions anywhere in the world. As more home automation systems become affordable and accessible, homeowners are finding ways to upgrade their houses across the country.
Will Home Automation Increase My Home's Value?
Absolutely. Because the demand for home automation is on the rise, it increases a home's value. Everybody wants access to advanced technology that streamlines their lifestyle. As a homeowner with smart technology, you'll be able to raise your asking price when your home goes on the market. If you work with a licensed real estate agent, they'll help ensure your price falls within the market's parameters.
How Can I Save Energy With Home Automation?
With home automation, you can track your use of resources like water and electricity. If you want to reduce your home's waste and utility bills, you can track your use over time and note your improvements. You can help the environment with other energy management devices, such as automated lighting that shuts off your lights at the right time of night or when you leave the house for the day. Motion sensors within your home can also automatically switch lights on or off as family walk through the rooms, further helping you save energy and money.
How Reliable Is A Home Automation System?
Home automation is very reliable if you know how to work with your systems. A basic home automation system transmits a command that is automatically acted upon. However, a more complex home automation system transmits a command and waits for a response, which could be a response from you or another piece of equipment. If the system doesn't receive the correct response, a series of actions may be executed in its place. For example, if your fire alarm detects smoke, then your system will automatically call the appropriate authorities, such as the firefighters and police, as well as you. While your system is certainly reliable no matter the complexity, we recommend working with a certified specialist for the installation process.
Is The Smart Home System Complicated To Use?
Not at all! It's easy to let a smart home automation system take care of your home. With a few clicks or taps, you can streamline your lifestyle using our touchscreen interface or an app from your mobile device. For example, if you plan to be gone for the day, set your home to the automated "Away" setting. All your home's functions will immediately switch over to lock the doors, turn off the lights, shut off the thermostat, turn on motion detectors, and whatever else you need your home to do.
When I Use Home Automation, Is My Information Secure?
Now this can be a very tricky subject. The problem is that when you have devices that connect to the Web, your devices are vulnerable to hacking in the same way that websites are vulnerable. The good news is, the ability to do these things is beyond most people, especially burglars who like to smash and grab.
On the other hand, malicious hackers can invade your privacy. Your smart TVs and your indoor cameras may show them what's happening in your home and the valuable possessions you own. Some may even be burglars, and they can use the scheduling info and the logs to see your habits and behavior.
So what can you do? Here are some tips to make your home automation more secure from hacking:
Secure your router with non-obvious passwords.

Change the passwords on your router, smart devices, and your smartphone regularly.

Keep your apps updated.

Keep your smart devices out of reach of strangers and people you don't trust.

Don't use public Wi-Fi when you access your home automation system.
Call 800-613-1874 or fill out the form to start your home security project today!
By clicking submit on this form, you acknowledge that the information you provide will be processed in accordance with our Privacy Policy.