Commercial Camera Systems in Virginia and Maryland
Providing Businesses with Surveillance & Security in Washington, DC, Maryland & Virginia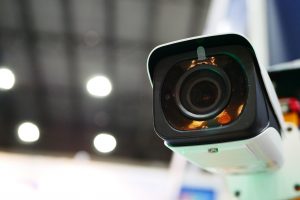 Providing Businesses With Surveillance & Security in Washington, DC, Maryland & Virginia
At Trinity Wiring & Security Solutions, we want to keep your business safe from intruders—both inside and out. By installing a commercial camera system, you, your employees, and even your tenants can feel much safer knowing the area is secured.
Crime is one of the top concerns facing property managers and owners of commercial businesses today. How do you protect your building and employees from a shoplifter, overnight break-in, or fraud? The range of crime that can occur in and around commercial buildings surmounts when there is no commercial security system to rely upon. We recommend installing a commercial security camera.
Are you equipped with an up-to-date commercial camera system in your Virginia or Maryland business? For business security services in Washington, DC, Maryland, and Northern Virginia, call 800-613-1874!
Commercial Camera Systems in Washington, DC, Maryland & Virginia
Walking up to damaged property at your business is a rattling event. Losing inventory or failing to catch theft can be just as saddening, and even frustrating. Whether you want to be able to access audio and video surveillance at any time of day or install a crime deterrent, commercial camera systems can prove to be invaluable for your business.
When it's time to increase the security of your commercial business, consider the following benefits of choosing a commercial camera system:
Save Money – While security guards have their own advantages, they can be very expensive, and it can be difficult to find staff at all hours of the day or night. Commercial camera systems provide monitoring services through all hours of the day, on holidays, and on weekends.
Have More Control – Access your security cameras directly from your smartphone or tablet, or connect all of your electronic devices through a smart automation. If anything should happen, or you just want to check in on your space, you have access directly at your fingertips.
Improve Your Business – Video surveillance allows you to monitor the foot traffic and day-to-day operations within your building, so that you may glean insights on how to improve your operations or business strategy.
24-Hour Monitoring – Not only does your commercial camera system record 24 hours a day, but at Trinity Wiring & Security Solutions, we offer 24-hour monitoring services and can reply to your needs instantly, from a specific employee that you know and trust.
Are you ready to take the next step in business security by installing a commercial camera system? Contact Trinity Wiring & Security Solutions online to learn more about security systems in Washington, DC, Maryland, and Virginia.